"I Sing Perfect Meter": Bardic Voice in Dylan Thomas' Under Milk Wood and the Arthurian Poems of Charles Williams"
Philological Review 32.2 (Fall 2006), 25-59. This peer-reviewed article discusses the concept of bardic voice in the radio play Under Milk Wood by Dylan Thomas and in the Arthurian cycle of poetry by Charles Williams in Taliessin Through Logres, the Region of the Summer Stars, and Arthurian Torso. The use of bardic voice automatically constitutes a retreat from realism. Thomas employed a traditional Welsh mode of bardic voice while setting his play in a contemporary setting. Thomas could do so primarily because he was consciously constructing his own Welshness and, as a Welsh poet, saw himself as a representative of Welsh bardism. He therefore sought conscious access to bardic techniques and attitudes. In contrast, Thomas' contemporary Charles Williams was an English poet, a member of the Inklings group in Oxford, and interested in bardic voice from the standpoint of a mystic antiquarian. Williams' poetic cycle attempted to resurrect medieval Welsh poetry in what he calls a mythopoeic context. Williams falls short precisely because his bardism concentrates on a Romantic and mythic setting rather than on the rhetorical and technical aspects of a bardic stance.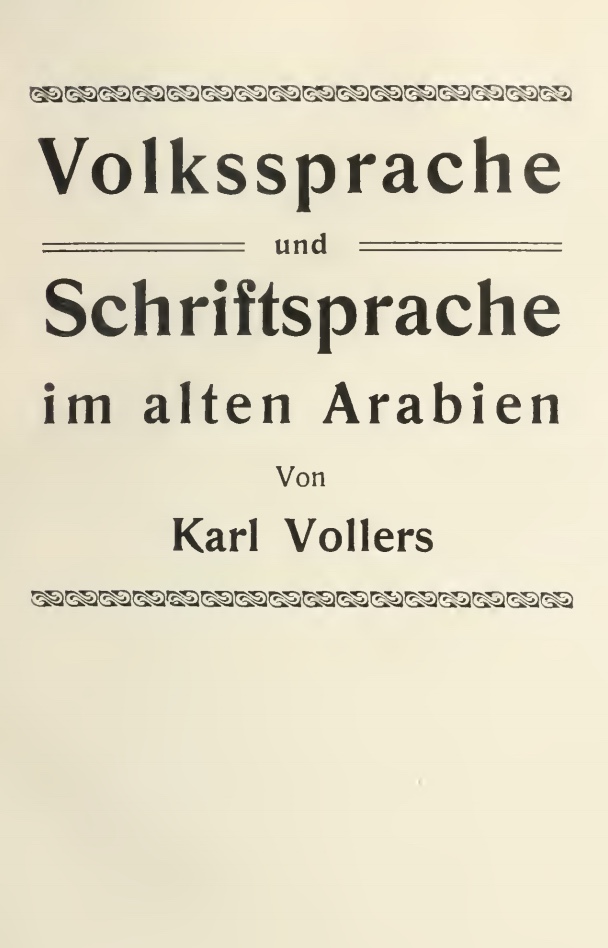 Volkssprache und Schriftsprache im alten Arabien (Popular Speech and Literary Language in Old Arabia)
Jonathan G. Reinhardt, transl., Munther Younes & David Stephan Powers, eds. Contracted with publisher, 2018. This book is a classic of historical critical linguistics on Quranic Arabic. When Karl Vollers' first advanced his theories at the Orientalist Congress in Algiers in a lecture on 20. April 1905, his findings caused a sensation -- and riots. Vollers had suggested that the language of the Quran was at least partially a re-writing of old Arabic poetry that predated the Prophet Muhammad, based on critical comparative linguistics. In this book, Vollers lays out his argument, carefully supported with historical evidence and linguistic analysis. As such, Vollers opened the doors for Muslim scripture that modern biblical criticism had opened for the Judeo-Christian sacred books in the preceding centuries. To this day, Vollers is a touchstone for critical, modern Quranic studies; however, his classic work has remained untranslated into English from the original German, a circumstance this translation seeks to correct.
Articles
Books